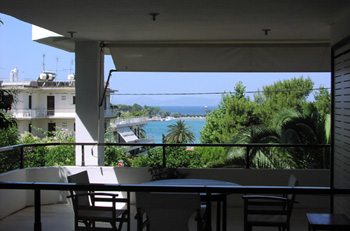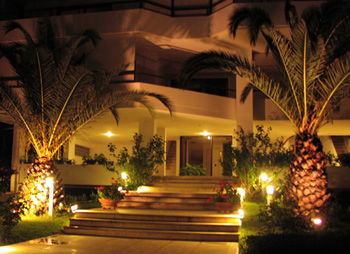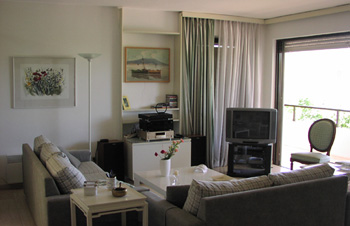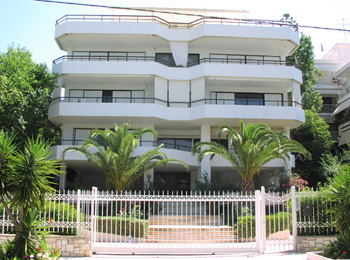 Vouliagmeni (Athens, Greece) Luxury Apartment with Sea View

Type:
Residential Apartment
Size:
85 sq.m. with 150 sq.m. of open verandas
Town:
Vouliagmeni, Athens, Greece
Construction Year:
1985
No. of Bedrooms:
2
No. of Bathrooms:
1
No. of WC:
1
No. of Kitchen:
1
Floor:
1
Garage:
No
Features:
Fully furnished, air conditioning, veranda, satelite TV.
Description:
Luxury apartment in the heart of Vouliagmeni with a beautiful view to the sea, 4 minutes walk from the beach and the Lake of Vouliagmeni.

The apartment is located near restaurants, convenient store, small super market, coffee shops, and a bakery.

With 85 sq.m. and 150 sq.m. of verandas surrounding the apartment, it is the ideal retreat for the summer and an ideal residence for the winter, within 1-hour drive to Athens via Attica Road, and public transportation, and only 45 minutes drive to the Athens International Airport.

The apartment is fully furnished, with satelite TV, air condition, and 16 sq.m. storage room in the basement.

The apartment is surrounded by a beautiful garden of palm and other trees.
Price:
650,000 euro (negotiable)
Contact:
+30.6944664242 | +972.544286998
elias[at]yvelia.com
Realtor:
Sold directly by private owner.
Rental:
Possible, at 3,000 euro per month for the summer. Winter rental or year-round rental possible and negotiable.